Personal Online Banking
Welcome to Siuslaw Bank's Personal Online Banking information page.
For a VIDEO DEMO on how to use Siuslaw Bank's Personal Online Banking, click on the link below: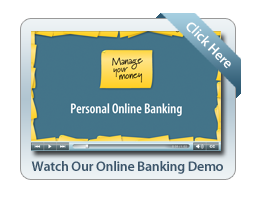 Benefits of Online Banking
Convenience: At home, at work, or on the road, your money is just a click away
Control: Monitor account transactions to stay on top of your finances and prevent fraud.
Time Savings: Fewer trips to the bank
Saves Money: Online banking is free
Online Banking Features
Check Account Balances

See if checks have cleared

Transfer money between your Siuslaw Bank accounts.

Order checks

Must have Online Banking to do Siuslaw Bank Bill Pay.
Enroll in Online Banking
Step 1: Before enrolling in Personal Online Banking you will need to collect 2 pieces of information.  You will need a valid account number and your Electronic Banking Password.  Both of these can be obtained from your branch of account.
Step 2: To begin the setup process, go to the Siuslaw Bank website – siuslawbank.com. In the left hand column make sure the Online Banking Access is set to Personal Online Banking.  Now, just below where the page is asking for your Access ID click on the option - First Time User?
Step 3: From the First Time Login page type in your valid account number for the Access ID.  For the Account Type, select the proper option (Choose from Checking, Savings, Certificate (CD), or Loan).  Now, where it is asking for a Password, enter your Electronic Banking Password (This is not your ATM PIN).  Click submit when done.
Step 4: Finally, just follow the prompts to completion.
Enroll in E-statements
Convenience: Access your E-statement anytime  through your Siuslaw Bank Online Banking profile.  With E-statements you will receive your statements faster than through regular mail and they will be available online the same day your statement is produced.  It also reduces paper clutter by providing your statements electronically.

Previous Statements: View your statements in an easy-to-read PDF format.  Past checking statements are kept online for a full 16 months - beginning from the time you enroll.

Security: Your E-statements are retrieved using Siuslaw Bank's secure Online Banking access and are backed by a secondary level of security using Multifactor Authentication.  Moreover, this service keeps your financial information out of your mailbox and trash, and away from identity thieves.

Printable: Statements can be printed should you need a hard copy.  Your E-statement can also be saved to disk, CD, Flash Drive, or your computer's hard drive for future reference.

Control: You can always return to having a paper statement mailed to you if needed.  It is simple to go back to paper statements should you change your mind, so you having nothing to lose by giving it a try.

Environmentally Friendly: Saves loads of paper and is one less item needing to be delivered to your home.  Help reduce your paper clutter, increase your banking security, and reduce your carbon footprint on the environment all at the same time.